What is Stopping You From Enjoying Life?
Contact us to see how we can help you feel better today.
We are excited that you are considering our office for Chiropractic Care.
The News-Herald
2020 Best of the Best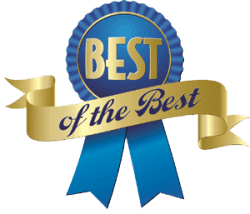 Chiropractor in Lake County
Located on Mentor Ave.
Chiropractor Painesville OH
Welcome to Morris Chiropractic located in Painesville. Chiropractic is one of the most amazing healthcare professions, but very few people understand what it's all about. We are here to help you gain a basic understanding of how our Painesville chiropractors can help you and your family.
---
Welcome to Morris Chiropractic
Since 1997, Dr. Brian Morris and Dr. Misty Morris have been enhancing the Lake County community as the highly respected health and wellness experts of Morris Chiropractic. We strive to create a healthier community through our corporate wellness and community outreach programs.
Through a whole-body approach to healing, Morris Chiropractic offers a variety of services to ensure you get the quality care you need.
Chiropractic: Discover relief and maintain a healthy nervous system
Nutrition: Live better with more energy through proper nutrition
Neuropathy
Back Pain
Headaches
Migraines
Neck Pain
Disc Problems
Numbness
Tingling
Sciatica
Vertigo
Poor Posture
Chronic Pain
Fibromyalgia
Whiplash
Hip Pain
Fatigue
Carpal Tunnel
Pregnancy Pain
Knee Pain
Foot Pain
Wrist Pain
Elbow Pain
Improved Athletic Performance
Increased Hip Flexibility
Post Concussion Rehab
Dizziness
OFFICE HOURS
Monday
8:00am - 12:00pm
2:00pm - 6:00pm
---
Tuesday
8:00am - 12:00pm
2:00pm - 6:00pm
---
Wednesday
8:00am - 12:00pm
2:00pm - 6:00pm
---
Thursday
8:00am - 12:00pm
2:00pm - 6:00pm
---
Friday
8:00am - 12:00pm
2:00pm - 6:00pm
---
Saturday
Closed
Morris Chiropractic
1545 Mentor Avenue
Painesville, OH 44077
(440) 639-9171
CHIROPRACTIC CARE THAT YOU CAN TRUST

One thing is for certain; you can trust that you'll be warmly welcomed when you arrive, that you're in great hands and that we'll do all that we can to help. We enjoy welcoming those who truly value their health to discover their best life through natural healing.

Chiropractic care works! We'll prove your progress by comparing your pre- and post-care digital X-rays for results you can see and feel.

MORRIS CHIROPRACTIC FOR BETTER HEALTH

At Morris Chiropractic, our adjustments are uniquely precise and effective for pain relief. We'll do pre and post X-rays so that you can see your spine become healthier over time. You'll feel better and see that our care makes a difference! We're very respectful of your time, keeping wait times to a minimum. In addition, our platinum software system helps us provide thorough care effectively so you can quickly get back to your day.